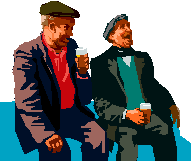 "Beer is proof that God loves us and wants us to be happy."

- Benjamin Franklin
---
(Last Updated 7/27/2007)
Our Mission:
To offer the finest selection of beer and premium beverage products in New Hampshire, providing our retail customers with exceptional service matched by no competitor, creating growth through partnership with our suppliers, and building brands through superior execution.
---
Company Profile:
Capitol Distributors was founded in 1963 in Concord New Hampshire by James P. Shea (2/16/1923 - 4/15/2001). Through Mr. Shea's hard work and perseverance over the years, Capitol Distributors has become one of the largest and most successful beer wholesalers in the state. The Company salutes his efforts, and strives to continue his four-decades-old legacy of honesty, integrity and outworking the competition. Our customers are the key to our success, and it is our goal to serve them with the best selling, administrative and delivery force in the beverage industry.
If you are a New Hampshire Licensee (on or off-sale) and are interested in getting information about us or any of our products, please contact us and we'll put you in touch with your assigned salesman.

---
Contact Us at:
TEL

(603) 224-3348

FAX

(603) 224-7832

E-MAIL

Postal address

Capitol Distributors, Inc.
P O Box 1148
Concord, NH 03302-1148